2013 in Review
The year 2013 has been a very enjoyable one for the two of us. We were able to relax a little more, eat really great food and drink some cold beers from new and established local Michigan breweries. It's amazing how much time you have when your hands when you aren't busy planning a wedding!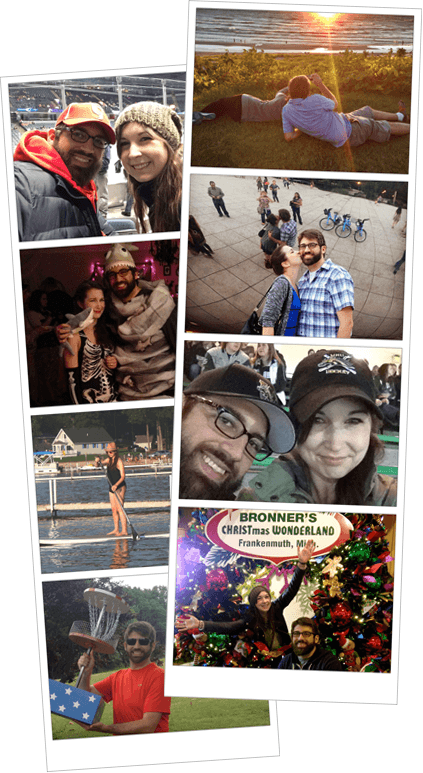 While it was nowhere near as adventurous as Europe, we did manage to do some traveling. This year we vacationed with friends in South Haven, Mich., enjoying a whole week of relaxing beach time. On a trip to Minneapolis and St. Paul, Minn., we celebrated a friend's wedding and were able to sneak in a few of the sites. For our one-year anniversary, we headed down to Chicago for an exciting weekend that included a musical, lots delicious food and a show created by one of our favorite designers that we just happened to find by chance. Christopher traveled to Philadelphia with his father in May to look at (and end up buying) a beautiful Ford Thunderbird.
This year, at the urging of Christopher and his brother, we tried something new for Thanksgiving. We spent the holiday in Frankenmuth, Mich. It was fun to explore "Little Bavaria" and the food spread at the buffet was varied and tasty. I even got to have some pancakes and syrup for Thanksgiving. While in town, we of course checked out Bronner's Christmas Wonderland, and that was… well it was experience (SO MUCH CHRISTMAS!).
We continue to have fun living in Kalamazoo where we regularly attend Western Michigan University hockey games as first-year season ticket holders (Go Broncos!). We always make an effort to visit local artists during Kalamazoo's monthly Art Hops and try each new brewery as they open (Kalamazoo has six new breweries this year, can you believe it?). In our spare time Christopher can be found disc golfing and I am usually updating my blog, which even won a Kalamazoo Social Media Week award this year.
Western Michigan University's fine arts, health and human services, and honors colleges' websites are held together by Christopher and I am a graphic designer for Greenleaf Hospitality Group and their outlets. I went to a user experience conference in Grand Rapids, Mich. this October, allowing me to expand my design knowledge and apply my new-found skills back to my job.
This year, we have been fortunate enough to celebrate with some friends as they got married, others as they got engaged, some of them buying their first homes and others having babies. The Kalamazoo community has been a great source of comfort and joy this year.
We wish all of our friends and family a memorable and fun holiday season and a great start to the new year. We are thankful for your love and support every day.
—Abby and Christopher Jones
Sounds like a great year, but let me see that cool animated GIF again…